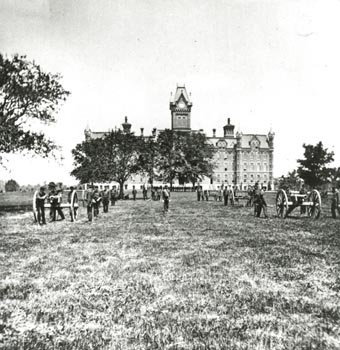 All Hail Ohio State
Dear Alma Mater here's to thee,
Thy name we glorify;
Thy fame shall ever constant be,
Thy praise shall never die.
It matters not what destinies
Thy loyal sons await,
'Midst joys and sorrows hopes and fears,
All hail Ohio State!

On other lips will echo soon,
Thy song that now we sing;
And so thruout the endless days;
Thy name and praises ring.
To other hearts we must confide
Thy love, thy wisdom great;
Still be our guardian and our guide,
All hail Ohio State!

Tho' time may steal all else that's sweet,
Thy mem'ry will remain;
To rob of bitterness, defeat,
To change our loss to gain.
Make vict'ry more victorious,
What ever be our fate;
Triumphant or inglorious,
All hail Ohio State!

This song was an entry in The Ohio State Alumni Association Song Contest in 1916. It was published in Songs of Ohio State University. Unfortunately, there is no additional information about this song, other than the composer and its publication. Also, Carmen Ohio, by 1916, was solidly in place as the Alma Mater of Ohio State, thus relegating this song into historical obscurity.
Photo: 1878 University Hall, Courtesy of The Ohio State University Archives
Please e-mail any comments, problems or suggestions to njmetrowsky@gmail.com

Webmaster: Nick Metrowsky
The Ohio State University, BA, History, 1979
Life Member The Ohio State University Alumni Association
Life Member of The Ohio State University President's Club
Annual Member of The Ohio State University Varsity "O" Association

Last Updated: 23 September, 2021