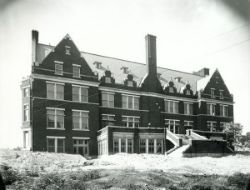 Alma Mater
To you, dear old Ohio, we bring our praise,
To you, dear Alma Mater, our voices raise;
Fair, fair college days spent 'neath thy shelt'ring walls;
Dear old "State," we love thy halls,
Come, come dear Alma Mater to us today,
Paint for us college scenes so bright, so gay;
Friendships loyal and true.
Bind us nearer to you;
Dear "Ohio"--thy spirit shall guide our way.

This song was written in 1912 by Mary Eva Taylor, class of 1905, and uses the melody of Beautiful Lady, a popular song of the time. This song was published with no score, so a MIDI file of Beautiful Lady was located to give an idea of how this song sounded. I had to reverse engineer the MP3 file to slow down the tempo to what would be appropriate for an "Alma Mater" style song.
For those of you old enough to remember the Hal Roach short subject films of the 1930s, this song was commonly played in the Laurel and Hardy and Our Gang/Little Rascals comedies, as background music. Fortunately, Carmen Ohio and Alma Mater - Ohio State University were in use and this song faded into history.
Photo: 1911 Ohio Union, Courtesy The Ohio State University Archives
Please e-mail any comments, problems or suggestions to njmetrowsky@gmail.com

Webmaster: Nick Metrowsky
The Ohio State University, BA, History, 1979
Life Member The Ohio State University Alumni Association
Life Member of The Ohio State University President's Club
Annual Member of The Ohio State University Varsity "O" Association

Last Updated: 23 September, 2021