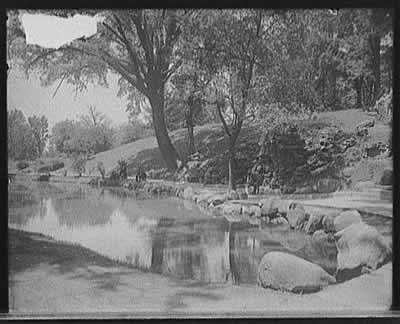 Alumni Day
Oh, turn thy face once again
Sweet maiden memory__
Turn me thy face and lend thy hand
And lead me through this haunted land,
Ah! Sweetness half a pain
To walk these fields once more,
Where friends I shall not see again
Walked with me once before.
These are leafy ways
And still the lilac blooms;
Aloft the oriole yet sings;
Yet flash the flicker's golden wings;
As in the distant days,
I watch the ripples flow,
Here where the silver poplar sways__,
Here where the west wind blows.
Ohio, mother fair__,
Fair as in days gone by__,
How many hearts yet cling to thee
In dear and poignant memory!
The children love thee yet
Led by thy distant star,
Thy halls thy sons shall not forget,
Though they are scattered far.
Alumni Day was written by Martha Hartford Webb, class of 1902, for the 1916 Ohio State Alumni Association Song Contest. Ms. Webb chose the melody of O Happy Days Gone By, whose score was not published in the Songs of Ohio State University songbook. A score for Happy Days Gone By was used for the MP3 file, but it is possible that this is not the correct melody.
Alumni Day won the Ohio State Association cup for the best lyrics to a melody chosen by the author, in the 1916 Ohio State Alumni Association Song Contest.
Photo: circa 1920 Mirror Lake, Courtesy of The Ohio Historical Society
Please e-mail any comments, problems or suggestions to njmetrowsky@gmail.com

Webmaster: Nick Metrowsky
The Ohio State University, BA, History, 1979
Life Member The Ohio State University Alumni Association
Life Member of The Ohio State University President's Club
Annual Member of The Ohio State University Varsity "O" Association

Last Updated: 23 September, 2021