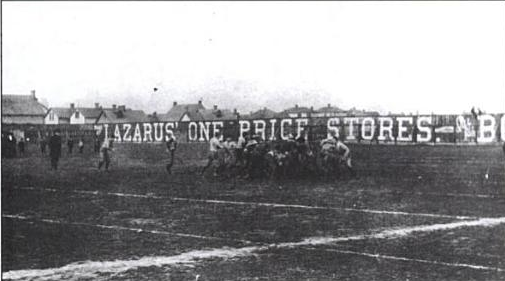 Battle Song
High we rise our banner o'er us;
See thy foe arrayed before us;
All Ohio shouts the chorus-
Touchdown, varsity!
Shout until the cry is sounding
To our state's remotest bounding;
Every hill and vale resounds-
Victory for aye!
As with other early fight songs written about Ohio State, this song used a popular song of the day to cheer on the football team. The song was published in the 1901 Ohio State - Michigan football program. While a rousing melody (the Welsh song Men of Harlech), it is possible that this song was only used during the 1901 football season, as it was not published in future football programs.
Photo: 1891 Ohio State Football Game , Courtesy of The Ohio State University Archives
Please e-mail any comments, problems or suggestions to njmetrowsky@gmail.com

Webmaster: Nick Metrowsky
The Ohio State University, BA, History, 1979
Life Member The Ohio State University Alumni Association
Life Member of The Ohio State University President's Club
Annual Member of The Ohio State University Varsity "O" Association

Last Updated: 23 September, 2021