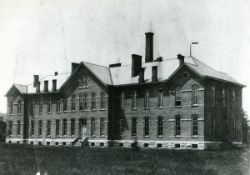 Bohunkus
There was a farmer who had two sons,
And these two sons were brothers,
Bohunkus was the name of one,
Josephus was the other's.

Now, these two boys had suits of clothes,
And they were made for Sunday;
Bohunkus wore his every day,
Josephus, his on Monday.

Now, these two boys to the theater went,
Whenever they saw fit;
Bohunkus in the gallery went,
Josephus in the pit.

Now, these two boys are dead and gone--
Long may their ashes rest!
Bohunkus of the cholera died,
Josephus by request.

Now, these two boys their stories told--
And they did tell it well;
Bohunkus he to heaven went,
Joespehus he to *.

* Hell, Delaware, Michigan, etc.
Bohunkus is one of the fun/silly ballads from the early days of Ohio State. This song was published in both song books, thus it was in use for a while. The song dates back to 1891, and sung by the Mnn's Glee Club, however, there is no author or other information available about the song. As were the case of the times, this song could have come to Ohio State from another college and adapted accordingly.
It the early days of Ohio State sports, the Buckeyes participated in sports contests mainly in Ohio and against Ohio schools. The arch rival was Ohio Wesleyan in Delaware, Ohio; hence, the reference to "Delaware" in the song. By, 1904 this will change, as Ohio State's rivalry against the University of Michigan was growing, as evidenced in some of the songs and cheers in use at the time. The 86 - 0 loss, in 1902, has a great deal to do with it.
Photo: 1883 Chemistry Building (now razed), Courtesy of The Ohio State University Archives
Please e-mail any comments, problems or suggestions to njmetrowsky@gmail.com

Webmaster: Nick Metrowsky
The Ohio State University, BA, History, 1979
Life Member The Ohio State University Alumni Association
Life Member of The Ohio State University President's Club
Annual Member of The Ohio State University Varsity "O" Association

Last Updated: 23 September, 2021