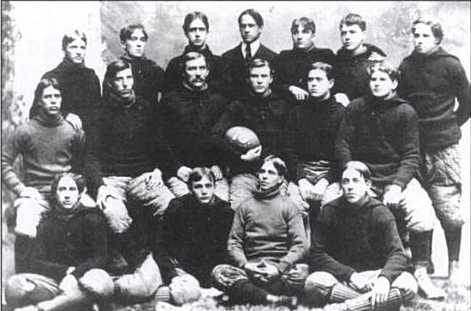 The Buckeye Team
Shout for the team,
Ohio lead the way,
Ours be the victory,
We'll win this day,
Rah! Rah! Rah!
Fight ev'ry inch
With spirit ever strong,
Here's to the team and school,
With shout and song!

The Buckeye Team was written in 1919 by Dr. John W. Wilce, who was football coach at Ohio State from 1913 - 1928. Dr. Wilce's tenure is only eclipsed by Wayne Woodrow "Woody" Hayes, as coach of Ohio State. His record was 78 Wins, 33 Losses, 9 Ties, winning just over 63% of the games he coached. Also, Dr. Wilce was instrumental in transitioning the Ohio State football program to Western Conference (Big Ten) participation. Dr. Wilce was an alumnus of the University of Wisconsin, and using the melody of The Badger Team, he composed The Buckeye Team. It is unknown if this song was composed for the Ohio Stadium Song Contest, or as an additional song to cheer the Buckeyes on to victory.
Dr. Wilce's teams are responsible for creating the fever and love that fans have for Buckeye football. His teams were the first ones that became recognized everywhere as champions under his reign, Ohio State would see their first All-American in Boyd Cherry (and 14 All-Americans in all), their first superstar in Chic Harley, and three conference championships. Dr. Wilce stepped down in 1928 to practice medicine. Across The Field was written as a tribute to Dr. Wilce. Finally, The Ohio State University Student Health Center is named after Dr. Wilce, for his contribution to medicine.
In 1923, Across The Field and The Buckeye Battle Cry were firmly established as the fight songs of Ohio State. Though, Wahoo! Wahoo! and Varsity were published, in 1923, it is unknown if these songs were in use. Also, Ohio Will Shine Tonight, may have also been used at athletic competitions. Yet, by 1928, this song, and latter three songs mentioned above, would no longer be in use.
Photo: 1895 Football Team, Courtesy of The Ohio State University Archives
Please e-mail any comments, problems or suggestions to njmetrowsky@gmail.com

Webmaster: Nick Metrowsky
The Ohio State University, BA, History, 1979
Life Member The Ohio State University Alumni Association
Life Member of The Ohio State University President's Club
Annual Member of The Ohio State University Varsity "O" Association

Last Updated: 23 September, 2021