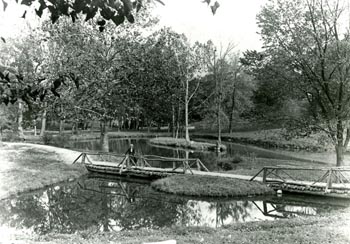 Campus Days
Alma Mater thou hast taught us,
Wisdom true and tried;
Thro' the seasons thou hast brought us
Joys that will abide.
Through the years our hands may sever,
Thou shalt have our love forever,
Kindly Mother, thou shalt never
Come to be our guide.

Chorus
Jolly days together,
In fair or cloudy weather,
We shall ne'er forget them,
No matter where we go;
Days of youth and gladness,
Leave no room for sadness,
Campus days are happy days at Ohio.

College hopes may fade and perish,
College friends may stray;
But the memories we cherish
Shall forever stay.
Alma Mater we will treasure
Gifts of thine that know no measure,
And the dreams of campus pleasure
Ne'er shall pass away.

Repeat Chorus
This song was an entry in The Ohio State Alumni Association Song Contest in 1916. It was published in Songs of Ohio State University. Unfortunately, there is no additional information about this song, other than the composer and its publication. The melody is distinctly ragtime, which was a popular music genre at the time this song was written.
Campus Days won the Student Council Cup for the best music to the poem Campus Days in the 1916 Ohio State Alumni Association Song Contest.
Photo: Circa 1890 Mirror Lake Islands, Courtesy of The Ohio State University Archives
Please e-mail any comments, problems or suggestions to njmetrowsky@gmail.com

Webmaster: Nick Metrowsky
The Ohio State University, BA, History, 1979
Life Member The Ohio State University Alumni Association
Life Member of The Ohio State University President's Club
Annual Member of The Ohio State University Varsity "O" Association

Last Updated: 23 September, 2021