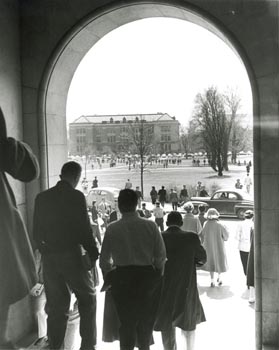 Carmen Ohio, Mine
Gone are the ways, of my gay college days,
Gone the happiest days of them all,
Look in the past, the memories will last.
Classmates of mine. Profs I recall.
Joys mixed with strife, in that gay carefree life,
And ambitions so great and fine.
For those days I am yearning, Mother of learning,
Carmen Ohio, Mine.
Sometimes it seems, like a pageant of dreams.
Golden moments in long bygone years.
Over once more, I live those days of yore.
Days free from cares. No doubts or fears.
What's that I hear? It's that old Buckeye cheer.
It's a call that I can't decline.
So again I'm returning, Mother of learning,
Carmen Ohio, Mine.
Carmen Ohio, Mine was written, in 1954, by Ralph C. Davis as an Alumni song. A copy of this song is available in The Ohio State University Archives. Also, the musical score indicates four voice parts for Tenor I, Tenor II, Baritone and Bass, thus indicating that this song was written for The Ohio State University Men's Glee Club.
Photo: 1954 The Oval, Courtesy of The Ohio State University Archives
Please e-mail any comments, problems or suggestions to njmetrowsky@gmail.com

Webmaster: Nick Metrowsky
The Ohio State University, BA, History, 1979
Life Member The Ohio State University Alumni Association
Life Member of The Ohio State University President's Club
Annual Member of The Ohio State University Varsity "O" Association

Last Updated: 23 September, 2021