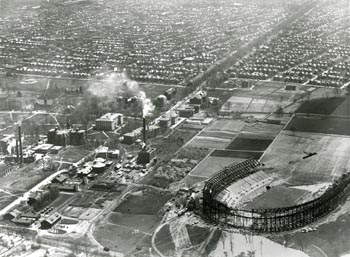 Sing A Song Of College Days
Sing a song of college days,
And tell me which is best,
Northwestern for her pretty girls,
Purdue among the rest.
Michigan for champions, (Michigan for her chappies,) (1)
Wisconsin where they row,
Chicago for her standards loyal,
For good fellows, Ohio.
Sing a Song of College Days (alternate)

Sing a song of college days,
And wherever you may roam,
Northwestern for her pretty girls,
Purdue among the rest.
Michigan for champions,
Wisconsin out where they row,
Iowa for her standards loyal,
For good fellows, Ohio.

"Don't send my boy to Harvard",
The dying mother said;
"Don't send my boy to Illinois",
I'd rather see him dead,
"Send him to Ohio State,
'Tis better than Purdue, (2)
But rather than up to Michigan,
For that will never do!" (2)
(1) This line was changed sometime after 1923, the original line is in parenthesis.
(2) In another version of this song, "Cornell" is substituted for "Purdue", "I will see him first in H---!" is substituted for "For that would not ever do!". It is unknown if The Ohio State Men's Glee Club ever sang the alternate version.
Sing A Song Of College Days was written in 1923 by Robert Braine, for The Ohio State University Men's Glee Club. It was published in the 1923 edition of Songs of Ohio State University. In 1947, it was recorded by The Ohio State University Men's Glee Club on the album Songs of the Scarlet and Gray (Decca).
Sometime after 1947, a newer version of the song was composed with a different melody, but it is unknown when the newer version was written and who wrote it. The newer version is similar to Don't Send My Boy To (Name of College Here), which was popular during this era. There was a song called Don't Send My Boy To Berlin, which was popular during World War II, and could be the root song for the Don't Send My Boy To ... songs. The melody, of the newer version is completely different from the 1923 version, this in keeping with the Don't Send My Boy To... songs..
In regards to the lyrics, you will notice the mention of "Chicago". Prior to 1946, the University of Chicago was a charter member of the Western Conference, also known as the "Big Ten".
The following history is from www.bigten.org:
"A meeting of seven Midwest university presidents on January 11, 1895 at the Palmer House in Chicago to discuss the regulation and control of intercollegiate athletics, was the first development of what would become one of organized sports' most successful undertakings. Those seven men, behind the leadership of James H. Smart, president of Purdue University, established the principles for which the Intercollegiate Conference of Faculty Representatives, more popularly known as the Big Ten Conference, would be founded.
At that meeting, a blueprint for the control and administration of college athletics under the direction of appointed faculty representatives was outlined. The presidents first-known action "restricted eligibility for athletics to bona fide, full-time students who were not delinquent in their studies."
This helped limit some problems of the times, especially the participation of professional athletes and "non-students" in the university's regular sporting events. That important legislation, along with others that would follow in the coming years, served as the primary building block for amateur intercollegiate athletics.
Eleven months after the presidents met, one faculty member from each of those seven universities met at the same Palmer House, and officially established the mechanics of the "Intercollegiate conference of Faculty Representatives", or "Big Ten Conference" of "Western Conference."
Those seven universities were: University of Chicago, University of Illinois, University of Michigan, University of Minnesota, Northwestern University, Purdue University and the University of Wisconsin. Indiana University and the State University of Iowa (now University of Iowa) were admitted in 1899. The Ohio State University joined in 1912. University of Chicago withdrew in 1946 and Michigan State College (now Michigan State University) was added three years later in 1949.
After a 40-year period of constancy in membership, the Conference expanded to 11 members for the first time. On June 4, 1990, the Council of Presidents voted to confirm its earlier decision to integrate Pennsylvania State University into the Conference.
At the turn of the century, faculty representatives established rules for intercollegiate athletics that were novel for the time. As early as 1906, the faculty approved legislation that required eligible athletes to meet entrance requirements and to have completed a full year's work, along with having one year of residence. Freshmen and graduate students were not permitted to compete, training tables (or quarters) were forbidden, and coaches were to be appointed by university bodies "at modest salaries."
Football and baseball were the popular sports prior to 1900. Wisconsin won the first two football championships and Chicago claimed the first three baseball titles. The first "official" sponsored championship was in out-door track. It was held at the University of Chicago in 1906 with Michigan earning the title.
Today, the Big Ten sponsors 25 championships, 12 for men and 13 for women. There have been many different athletic events popularized on Big Ten campuses. Some became extremely popular - football and basketball, for example. Others, like boxing, fell by the wayside.
The office of the commissioner of athletics was created in 1922 "to study athletic problems of the various Western Conference universities and assist in enforcing the eligibility rules which govern Big Ten athletics." Major John L. Griffith was appointed as the first commissioner and served in that position until his death in 1944. Kenneth L. "Tug" Wilson, former director of athletics at Northwestern, served from 1944 until he retired in 1961. Bill Reed, an assistant commissioner since 1951, succeeded Wilson until his death in 1971. Wayne Duke became the fourth Big Ten commissioner in 1971 and retired June 30, 1989. Duke was succeeded by James E. Delany on July 1, 1989. Delany came to the Big Ten following 10 years as Ohio Valley Conference Commissioner."
2010 Big Ten Expansion
In December, 2009, the Big Ten announced that they were exploring adding additional schools to expand the conference. The number of schools proposed would range from one to as much as nine schools. On 11 June, 2010, the University of Nebraska accepted an invitation to become the twelfth member of the Big Ten Conference. Since then conference realignments, which began in 2009, continue through 2012, as follows: Pac 12 (add Colorado, Utah), SEC (add Missouri, Texas A&M), ACC (add Pittsburgh, Syracuse), Big 12 (lose Colorado, Texas A&M, Missouri, Nebraska, add TCU, West Virginia), Big East (lose Pittsbrugh, Syracuse, TCU, West Virginia, add Boise State, Houston, SMU, Central Florida, San Diego State), Mountain West (lose Utah, BYU, Boise State, San Diego State, add Fresno State, Nevada and Hawaii). Conference USA (lose Houston, SMU, Central Florida). In February, 2012, the Mountain West and Conference USA merged to form the first viable 16 school conference. Also, the Big 12 is still exploring adding members, are as the other conferences (notably ACC, SEC, Big East and even the Big 10).
In December, 2010, the "Big Ten" adopted a new logo and defined its two divisons for football. The "Legends" division and the "Leaders" division. The "Legends" division will consist of Iowa, Michigan, Michigan State, Minnesota, Nebraska and Nothwestern. The "Leaders" division will consist of Illinois, Indiana, Ohio State, Penn State, Purdue and Wisconsin. In adopting this alignment, the "Big Ten" is the first major conference not to go with geographic divisions.
Additional University of Chicago and Big Ten Information:
As mentioned above, in 1946, the University of Chicago withdrew from the "Big Ten". In 1939, they suspended their football program, due to a rapid decline in the 1930s. In 1942, the UC Football Stadium (Stagg Field) was used for the Manhattan Project. On December 2, 1942, Enrico Fermi achieved the first self-substaining chain reaction, which lead to the development of the first atomic bomb. It was thought, at the time, that UC would return to Big Ten competition, once World War II ended; however, this was not the case, as the UC administration decided to emphasize academics and research, over participation in athletics. In 1969, the University of Chicago would return to competition in football, at the NCAA Division III level. Today, UC remains dedicated to their academic and research mission. The University is a charter member of the University Athletic Association (UAA), an NCAA Division III conference. Other UAA members are Brandeis University, Carnegie-Mellon University, Case Western Reserve University, Emory University, New York University, the University of Rochester, and Washington University.
NOTE: With special thanks to Michelle Drobik, of The Ohio State University Archives, I was able to obtain the score to Sing A Song Of College Days.
Susan Kruest was kind enough to contribute the lyrics to the alternate version of Sing a Song of College Days. The lyrics were passed down by her father via oral tradition.
Photo: 1922 Campus, Courtesy of The Ohio State University Archives
Please e-mail any comments, problems or suggestions to njmetrowsky@gmail.com

Webmaster: Nick Metrowsky
The Ohio State University, BA, History, 1979
Life Member The Ohio State University Alumni Association
Life Member of The Ohio State University President's Club
Annual Member of The Ohio State University Varsity "O" Association

Last Updated: 23 September, 2021