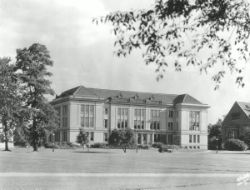 If I Had a Daughter
If I had a daughter, I'd dress her up in green,
I'd send her on the campus to coach the Freshman team;
And if I had a son, I tell you what he'd do
He would yell "To Hell" with Delaware"*
And root for O. S. U.

If any you Methodist* brethren don't like Ohio's brass,
Come out upon the campus, we'll roll you in the grass;
Like every other good fellow, I like my whisky clear,
I'm a rollicking rake from Ohio State, and
A "Son-of-a-gun" for beer.

If I had a bottle I'd let fly out the cork,
I'd drink to old Ohio, the rest are on the pork,
And if I had a barrel, I'd be the same old skate,
I would be my bottom dollar on old Ohio State.

* One could substitute "Ann Arbor" and "Wolverine", for "Delaware" and "Methodist".
For many out there, the melody of this song is Song of a Gambolier, or the better known Ramblin Wreck from Georgia Tech. This was one of several drinking songs that were popular at Ohio State in the late 1890s and early 1900s. Today, we have supplanted this song with I Wanna Go Back to Ohio State, but the references to drinking and having a good time a pretty much part of both songs. This song went into disuse, due to both World War I and Prohibition, as the likely causes.
Photo: 1905 Mendenhall Lab, Courtesy of The Ohio State University Archives
Please e-mail any comments, problems or suggestions to njmetrowsky@gmail.com

Webmaster: Nick Metrowsky
The Ohio State University, BA, History, 1979
Life Member The Ohio State University Alumni Association
Life Member of The Ohio State University President's Club
Annual Member of The Ohio State University Varsity "O" Association

Last Updated: 23 September, 2021