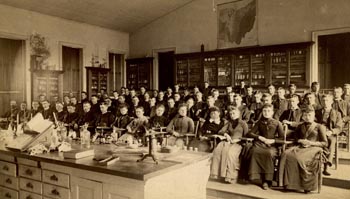 These Final Exams
These final exams! These final exams!
How many a night the student crams
His head with stuff, when used forgot,
And then bewails the cursed lot.

For some, these times has passed away,
Any many a heart is now quite gay;
You hear no more the wicked "dams"
For those who flunked on final exams.

And so 'twill be when I am gone,
Those final tests still will go on,
While other bards compelled to cram,
Shall "dam" and "dam" the final exam.

There was the fun side of student life and the dreaded side of student life. One thing that has not changed was the dread of exams, especially final exams. This little dirge was composed in 1890 and published in The Lantern. There is nothing else known about the song, other than it is the oldest known song, with a score, in Songs of the Scarlet and Gray. This just shows there was some reality to the gaiety of college life, in the late 19th and early 20th centuries.
Photo: 1893 Lecture Hall, Courtesy of The Ohio State University Archives
Please e-mail any comments, problems or suggestions to njmetrowsky@gmail.com

Webmaster: Nick Metrowsky
The Ohio State University, BA, History, 1979
Life Member The Ohio State University Alumni Association
Life Member of The Ohio State University President's Club
Annual Member of The Ohio State University Varsity "O" Association

Last Updated: 23 September, 2021