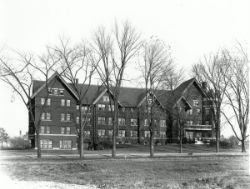 We Come From the Fair O. S. U.
We come from the fair O. S. U., O. S. U.,
A college so hale and so true, and so true,
Her colors so gay are the Scarlet and Gray,
We're a happy go lucky good crew.
But we care not what other's may say,
We're in love with the O. S. U.,
College true O. S. U.,
We yell for the O. S. U.

This is another example of an 1890s period song being adapted for use at Ohio State. Also, this is a song that shows the dedication, of those who sang the song, to Ohio State. It was not unusual, in the late 1800s and early 1900s for the students to express their feelings about their Alma Mater. As going to college was more than just classes and books, but also was a place that the students began their adult life and forged friendships for a lifetime. Much of this was lost through the 20th century, unfortunately. There is no other information about the author.
This song was originally published in The Lantern on 2 December, 1896.
Photo: 1910 Oxley Hall, Courtesy of The Ohio State University Archives
Please e-mail any comments, problems or suggestions to njmetrowsky@gmail.com

Webmaster: Nick Metrowsky
The Ohio State University, BA, History, 1979
Life Member The Ohio State University Alumni Association
Life Member of The Ohio State University President's Club
Annual Member of The Ohio State University Varsity "O" Association

Last Updated: 23 September, 2021