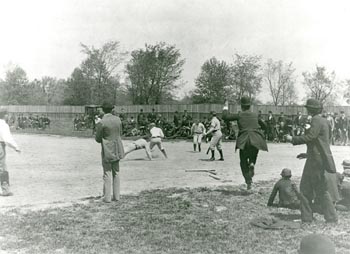 Song of the Franklins
We crave your condescension to tell you what we know
Of playing ball in the college nine at Columbus, Ohio.
Our captain's name is Downing, a river rat is he.
And he swings his bat like Henry Wright who came from over the sea.
Chorus
We shouldered bats and marched, marched, away
From Boarding Hall into the field at play.
Curses and oaths are often heard on the way
As we marched, marched, marched to play baseball.
Repeat Chorus
Fieser is our catcher, and a very good one at that,
He knows how to handle a ball, and is also good at the bat.
He takes Downing's hot ones, and greets you with a smile,
And whene'er he hurts his fingers, he trades with McQuigg awhile.
Repeat Chorus
Our shortstop's from Auld Ireland, a big mouthed lad is he,
When he stops a ball the nine all cheer, so seldom it they see,
He often hurts his fingers and sometimes "steps in a hole"
And says he could not catch these balls if it were to save his soul.
Repeat Chorus
Townshend plays on first base, in that place he's not bad,
McQuigg holds his own on second and third is played by "Dad."
They all three are good looking, and all good players at that
One is tall, one is lean, and the other one very fat.
Repeat Chorus
Noah, Will and Robert "the gay and festive one",
Play in the field and do their best until the game is done.
They are as good a set of mufflers as anywhere can be found,
And when a fly goes into the field it generally reaches the ground.

Repeat Chorus
Song of the Franklins or Song for the Franklin Baseball Club was written in 1874 by John F. McFadden, class of 1878. This is the oldest song on this web site, other than the original Alma Mater. What is even more interesting about this song, it was written about the Ohio State Baseball Team. Baseball was very popular in the middle 1870s, so it seemed logical to have a song about the baseball team.
In the July, 1916 issue of the Ohio State University Monthly, John McQuigg submitted the following article:
Pomeroy, Ohio; February 25, 1916
To the editor of THE MONTHLY:
Comforming to yours of February, 16, I am sending you a copy of a song written by John F, McFadden, who graduated in the first class at the O. S. U. in 1878. It was written and sung by the old "Franklins" in 1874. The members of the club were: L. F. Fieser, Columbus, catcher; W. C.Downing, Middleport, pitcher (deceased); J. F. McFadden, Cadiz, short stop; A. B. Townshend, Columbus, 1st base; John McQuigg, Pomeroy, 2nd base; E. S. Baily, Waynesville, 3rd base; Noah S. Gregg, Circleville, right field (deceased), Will Woodward, Tippecanoe City, center field (deceased), Robert Holiday, Piedmont, left field (deceased), Arthur I. Vorys, Columbus, scorer.
These boys all lived at the old Dormitory, except Townshend, who spent most of his time with us, and was really one of the old crowd. The baseball grounds were originally in the rear of Prof. Mendenhall's residence on Woodward (now 11th) Avenue, but were later just north of the old Dorm. building. We had some very exciting games, especially with the Delaware College club. No masks, gloves or chest protectors were worn by the players at that time. Here's the song which was sung to the tune of The Mulligan Guards which was having a run at the theaters then.
To thoroughly appreciate this song, you should have heard those old boys sing it.
Very Truly,
John McQuigg
One final comment, this is one song which has an interesting history and describes a bit of life at Ohio State in its early years. Old maps indicate that only a few houses, University Hall and a couple dormitory buildings existed in 1874. This is a lost historical gem that now has a new life on this web site.
Photo: 1892 Baseball Team, Courtesy of The Ohio State University Archives
Please e-mail any comments, problems or suggestions to njmetrowsky@gmail.com

Webmaster: Nick Metrowsky
The Ohio State University, BA, History, 1979
Life Member The Ohio State University Alumni Association
Life Member of The Ohio State University President's Club
Annual Member of The Ohio State University Varsity "O" Association

Last Updated: 23 September, 2021