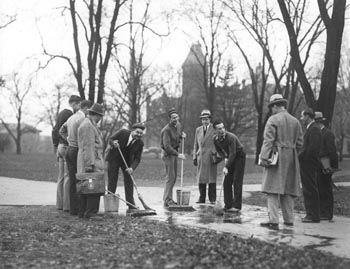 Lo! The Poor Freshman
A Freshman once to Hades went, some things he wished to learn;
But back to earth he soon was sent, he was too green to burn.

The greenhorn wandered all about, in search of useful knowledge,
At last his mother heard him shout "I think I'll go to college."

He tried to enter Yale at first, and then tried O. S. U.,
The profs all laughed until they burst; they could not let him through.

He went from here to Michigan, Wisconsin, and to Case,
Chicago made him wish again, he'd stayed in his hot place.

In vain he tried the O. M. U., he liked the "doctors" well,
The "Medics" beat him black and blue, and sent him back to-- well.

To make a lengthy story short, he wandered ev'ry where;
Until at last the verdant sport, got in at Delaware*.

A TIP

The Bible to all architects, doth urge the wise command,
"Go build your house upon the rocks, and not upon the sand.

BUT

In building up a character, which shall withstand all shocks,
O Freshman build upon your "sand", and not upon your "rocks".
This song makes fun at two things, other colleges and Freshmen. They both seem to get equal time. There is very little information about the author of the song, but one can easily ascertain the meaning.
As part of student life, was the right of passage of being a Freshman. In the 21st Century, being a Freshman is more like getting used to your new surroundings, going to class, make new friends, etc. From an academic standpoint, adjustment for Freshman has changed little, only technology is different.
While academics is one thing, Freshman life had changed much over the past 100 years. First off, this song is indicative of what upperclassmen thought about Freshmen. Next, life at Ohio State for a Freshman is much different than today. In effect, hazing was very common to introduce Freshmen to college life and it was not different at Ohio State. Some of what the Freshmen endured included: A welcome to Ohio State dunking in Mirror Lake; tug of war between upperclassman and Freshmen (losers end up in Mirror Lake); requirement to wear Scarlet and Gray beanie caps; requirement to carry a match for an upperclassman's cigar, pipe or cigarette; required to enter the Main Library from the Neil Avenue Side; required to sit in the Library in a designated location; forbidden to walk anywhere on the Oval; forbidden at certain drinking establishments, etc. Many of this practices started to fade after World War I, many more faded after World War II. The last of the requirements, the beanie cap, was eliminated in the early 1960s.
Notes: "O. M. U" was Ohio Medical University, which is now The Ohio State University College of Medicine. Both schools merged in the early 20th Century, due to proximity to each other and the need for a public hospital in Columbus, Ohio. The Oval is the large common area located on The Ohio State University campus, which is more or less oval in shape. Ringing the Oval are the oldest of Ohio State Campus buildings, with the Main Library at the far west side, connected by the "Long Walk", a central bisection sidewalk that is aligned with 15th Avenue and ends approximately 50 yards from High Street, on the east. The area encompasses nearly 11 acres of open space, combined with Mirror Lake Hollow and "South Oval" to the south, total open space is about 20 acres.
Photo: 1933 Freshmen Sweeping the Oval, Courtesy of The Ohio State University Archives
Please e-mail any comments, problems or suggestions to njmetrowsky@gmail.com

Webmaster: Nick Metrowsky
The Ohio State University, BA, History, 1979
Life Member The Ohio State University Alumni Association
Life Member of The Ohio State University President's Club
Annual Member of The Ohio State University Varsity "O" Association

Last Updated: 23 September, 2021