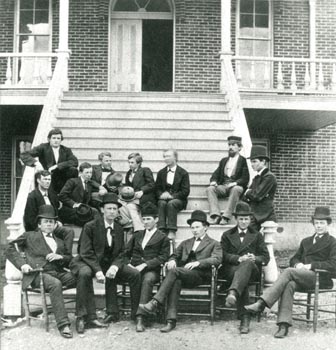 Freshman Ditty
A verdant ass
Of the freshman class
Came up from the country near.
With a smile and a smirk
Like a terrible Turk,
He thought he was "No small beer."
He blew the smoke
And he laughed at the joke
At the Freshman rules he read-d-d,
With a dinky smile
At the dinky style
Of the cap on his dinky head.

Chorus
Then ho-heigh-ho
Heigh-ho for O-hi-O.
We'll sing once more
Of the brave Sophomore
The Freshman's deadly foe, heigh-ho,
No more will e'er be met
No--not for some time yet
The dinky cap
Of the Freshman yap
With his pipe and cigarette.

His head was high
With bold defi-
As he winked at a sweet co-ed,
When a Sophomore guy, With fire in his eye
Swooped down on his Freshman head,
And he fell with a cuss
As he bit the dust
And his brave, but youthful soul-ul-ul,
In his tender years
Now drowns his tears
In the full and flowing bowl.

Repeat Chorus
Freshman Ditty was a ballad written by George W. Bellows, class of 1905, around 1904. This song is another example of student life at Ohio State, in regards to Freshman. As noted in Lo! The Poor Freshman, Freshman life was a rite of passage and they were hazed by upperclassmen. There were rules that Freshman had to abide and upperclassmen kept the Freshman in line. So, this song tell a story of a Freshman who makes fun of the rules, breaks the rules and suffers the consequences of his actions. While this was not a song in general use, it was sung by The Ohio State University Men's Glee Club.
Photo: 1874 South Dorm, Courtesy of The Ohio State University Archives
Please e-mail any comments, problems or suggestions to njmetrowsky@gmail.com

Webmaster: Nick Metrowsky
The Ohio State University, BA, History, 1979
Life Member The Ohio State University Alumni Association
Life Member of The Ohio State University President's Club
Annual Member of The Ohio State University Varsity "O" Association

Last Updated: 23 September, 2021