Let's Go Bucks!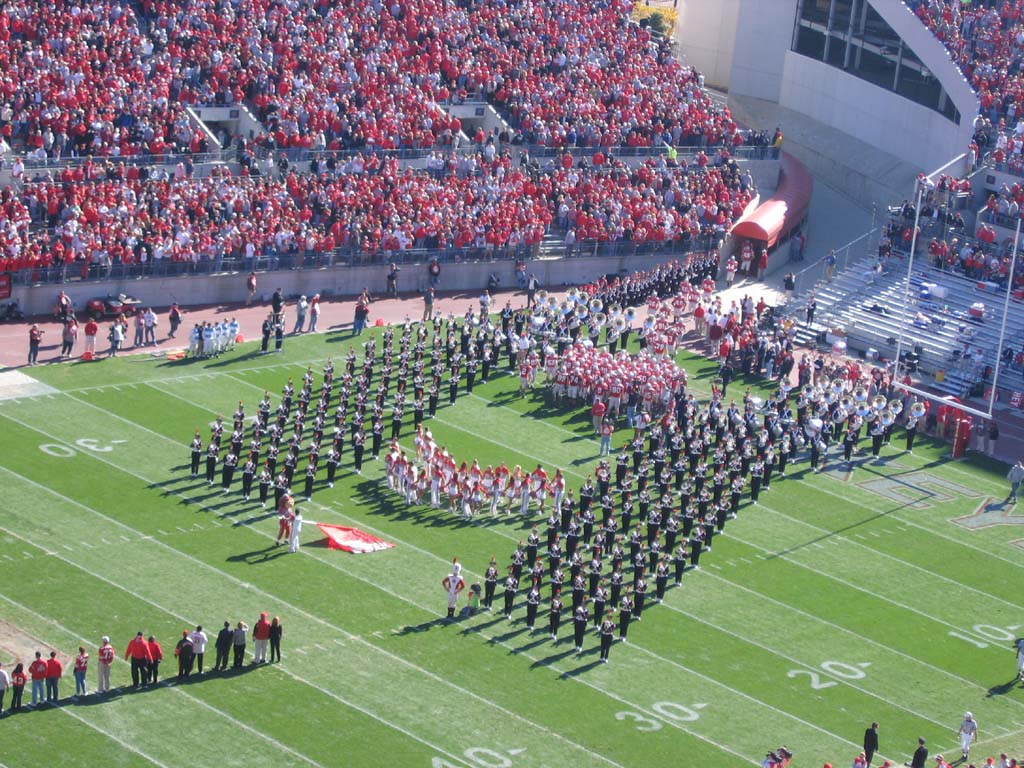 Courtesy of Gene Warman, the above is a test recording of Let's Go Bucks, from 1983. It runs for about 90 secods. As he tells it, it is more of a rock and roll style. Actually, it also has a jazz feel to it.
Let's Go Bucks!, also known as the Let's Go Bucks Cheer or Go Bucks Cheer. The song we are most familiar with today was arranged by former Ohio State University Marching Band member John Tatgenhorst, in 1983. The Ohio State University Marching Band web site provided the following:
"John Tatgenhorst, a graduate of The Ohio State University School of Music, is a professional music composer/arranger and producer. He resides in Chicago where he is president of his own musical production company. He writes and arranges music for local and national radio and television commercials and for films. Over 500 arrangements and compositions of John's are published by twelve publishing companies and his music is known worldwide. Since 1964, John has written hundreds of arrangements and compositions for the OSU Marching Band that include the Let's Go Bucks! and other cheers and the official rock song of the State of Ohio, Hang on Sloopy. John recently produced the OSU Tailgate CDs and cassettes which are sold at campus and area gift shops and retail stores. The profits go to the OSU School of Music and OSU student scholarships."
The following is an account from Gene Warman on how the Go Bucks Cheer came about:
"John Tatgenhorst and I created that cheer at 2AM in the morning at Universal Studios in Chicago in August of 1983 while we were mixing instrumental tracks for a community college jingle.
It was designed to give Ohio State something that could be used in a similar way to Let's Go Blue at the University of Michigan. The OSU cheer being used prior to that time was difficult to follow and never really took hold. I spoke with John about working on a new cheer. He and I both agreed to create something new and fresh and to give it to the band at no cost.
Go Bucks is actually a modification of a video track John did for the Chicago Sun Times. Except that was in 5/4. I suggested going to 4/4 and adding additional beats to each phrase to accommodate the crowd cheer. Just that simply it was created.
Several days later we recorded an extended version of the Go Bucks Cheer at Bison Studios in Columbus. This was played extensively by WTVN radio and the presented to the band as a reference, along with the completed sheet music.
That is the cheer that was introduced during the Oregon game in 1983 and has remained unchanged ever since. The Columbus Citizen Journal did a complete story on the new cheer the week after it was introduced, which is available in their microfilm archives."
According to former OSUMB member David Layfield: "I was in the OSU Marching Band from 82-86. I would like to correct the date of first use for the Go Bucks Cheer. We played it as far back as 83. It is on the recording of the Mershon Concert."
Let's Go Bucks! is usually played throughout the game to get the crowd cheering on the Buckeyes, either on offense or defense, especially when the crowd starts to quiet down. In addition to Let's Go Bucks!, the OSUMB also plays Across The Field, Hang on Sloopy and Rock and Roll Part II (Hey Cheer) to coax the crowd to cheer on the Buckeyes. While written primarily for use at football games, Let's Go Bucks!" is commonly played at other Ohio State sporting events; including baseball, basketball, hockey and soccer contests to name a few. There are no lyrics to this song, but there are noticeable pauses for the crowd to yell "Go Bucks!". The MP3 recording includes the "Go Bucks!" vocalizations.
Please e-mail any comments, problems or suggestions to njmetrowsky@gmail.com

Webmaster: Nick Metrowsky
The Ohio State University, BA, History, 1979
Life Member The Ohio State University Alumni Association
Life Member of The Ohio State University President's Club
Annual Member of The Ohio State University Varsity "O" Association

Last Updated: 23 September, 2021