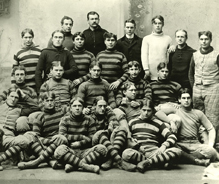 Hot Time In Columbus Tonight
When you see the foot ball put in play,
It won't be long, before we've win the day,
For against our team they needn't try to play,
There'll be a hot time in Columbus to-night.

Cheer, boys, cheer O. S. U.'s got the ball,
U-rah-rah and won't they take a fall,
And when they hit the line, there'll be no line at all,
There'll be a hot time in Columbus to-night.

Hot Time in Columbus Tonight was written around 1900 by an unknown author. It looks like this song migrated to Columbus from the University of Wisconsin. The first stanza is original to Ohio State, while the second stanza is nearly identical to the song used at the University of Wisconsin. This song was never published in any of the song books. In 1900, this song was published with two separate sets of lyrics. For the Oberlin game, it was published to celebrate the 1899 championship season. For the Michigan game, the lyrics on this page were published.
The following is from the University of Wisconsin web site:
"This well known melody, which had great popularity at the turn of the century, was written in 1896 by Theodore M. Metz and was later given a UW flavor by Philip Allen, who graduated from the University in 1899 with a law degree. Hot Time (Cheer, Boys, Cheer!) is now traditionally used by the Wisconsin Band as a "fire-up song" which was played immediately before the kick-off at a football game...the tip-off in basketball...and the face-off at each hockey match. In Camp Randall it is still used to signal a Badger touchdown and is followed immediately by On Wisconsin after the extra point has been attempted."
Photo: 1897 Football Team, Courtesy of The Ohio State University Archives
Please e-mail any comments, problems or suggestions to njmetrowsky@gmail.com

Webmaster: Nick Metrowsky
The Ohio State University, BA, History, 1979
Life Member The Ohio State University Alumni Association
Life Member of The Ohio State University President's Club
Annual Member of The Ohio State University Varsity "O" Association

Last Updated: 23 September, 2021