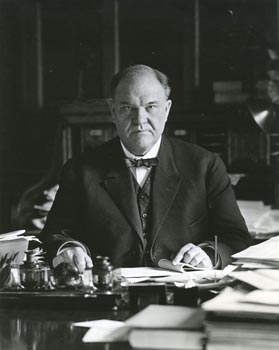 Howdy Do, Prexy Thompson
Howdy do, Prexy Thompson, howdy do?
Is there anything that we can do for you?
We'll do ev'rything we can,
We're with you to a man,
Howdy do, Prexy Thompson, howdy do?

Howdy Do, Prexy Thompson? is one of three songs, Jimmie Kelley and To Prexy being the others, that was actually written about a particular person. William Oxley Thompson served The Ohio State University during its formative years of the early 20th century. During his tenure, Ohio State underwent many changes, in regards to, construction of many campus buildings, increase in enrollment, addition of academic programs and guiding the university community during The Great War (World War I) and the aftermath. In honor of Dr. Thompson's contribution to Ohio State, the Main Library was named. Also, a bronze statue of Dr. Thompson stands in front of the Library at the western terminus of The Long Walk, facing The Oval.
Photo: Undated President William Oxley Thompson, Courtesy of The Ohio State University Archives
Please e-mail any comments, problems or suggestions to njmetrowsky@gmail.com

Webmaster: Nick Metrowsky
The Ohio State University, BA, History, 1979
Life Member The Ohio State University Alumni Association
Life Member of The Ohio State University President's Club
Annual Member of The Ohio State University Varsity "O" Association

Last Updated: 23 September, 2021