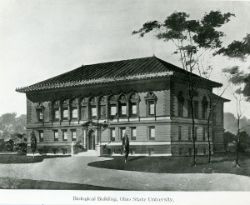 Hurrah for O. S. U.
O there's a school called O. S. U.
At Ohio's capital.
'Tis open to the Gentile, Jew,
All mortals great and small;
'Tis here the farmer comes to know
Hoe science to apply,
So that his grain may spring and grow,
And grub-worms pass him by.

Chorus
Hurrah for O. S. U., O. S. U., O. S. U,
Hurrah for O. S. U. --The best school in the land.

Mechanics, too, are blest from here
They see their theories tried,
Which, later they will persevere,
Within their heads to hide.
Professors, doctors, lawyers, priests,
This school sends forth each year,
Whose valiant deeds in college feats,
Will call for lusty cheer.

Repeat Chorus
O Oberlin quite loud may boast
Of prowless in athletics,
And Delaware may drink the toast
To "Geyer's Homiletics."
"But the deathless ones who whine and live
In arms, in acts, in song."
The brightest this great state can give
To O. S. U. belong.

Repeat Chorus
Then first upon the scroll of fame,
Her glorious name be put,
And he who would make sure the same,
Put forward his "right foot."
O 'tis a glorious charter, sir,
Deny it, he who can,
That's breathed in the glowing words,
"I'm an O. S. U. man.

Repeat Chorus
After a long search, I was able to determine that this song's melody is the same as the Confederate Song The Bonnie Blue Flag, also known as Delaware Lyre. It was published in The Lantern in March, 1892 (Title An O. S. U. Song), and Songs of the Scarlet and Gray. Also, it remains one of the oldest songs written about Ohio State.
One can speculate that the melody may have been controversial, considering the "The War Between the States" or "American Civil War" ended only 26 years before this song was written. It was not unusual to take a melody from a popular song and write new lyrics; there are many songs on this web site that written in this fashion. It is unknown who wrote this song, but it is possible it was written by a member of The Ohio State University Men's Glee Club.
Notice: One needs to mention that this melody may be offensive to some parties. This web site is a historical record of songs written about Ohio State, and such it is not the intention to offend, but to educate those who show interest in historical information.
Photo: 1897 Biology Building (now razed), Courtesy of The Ohio State University Archives
Please e-mail any comments, problems or suggestions to njmetrowsky@gmail.com

Webmaster: Nick Metrowsky
The Ohio State University, BA, History, 1979
Life Member The Ohio State University Alumni Association
Life Member of The Ohio State University President's Club
Annual Member of The Ohio State University Varsity "O" Association

Last Updated: 23 September, 2021