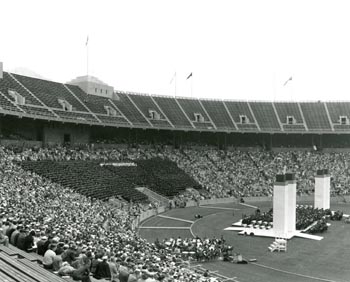 Our Inspiration
Hark! A Roar like thunder strikes the ear,
Resounds and echoes far and near,
Spreading its tidings of joy and cheer,
Bight'ning the days of our college year;
Good old yell! Our hopes thereby renew.
Though worn and tried, though worn and tired, you're as good as new.

Chorus

Wahoo! Wahoo! Wahoo! Wahoo! As classmates we're loyal and true;
The Scarlet and Gray, our banner, unfurling,
The Scarlet and Gray, our banner, unfurling,
For vict'ries untold, our hearts ever stirring,
To yell and yell, to yell and yell for fair O. S. U.

At th' inspiring sound we'll toss our hats aloof,
Our ladies fair, wave their 'kerchief',
While all will shout in tones sonorous,
Shout aloud in singing chorus,--
"Vive notre universite, O!
Sie lebe hoch, sie lebe hoch!"

E'er to her remembrance we'll render,
To Alma Mater, --defend her,--
The highest tribute in glory,
And this we'll tell our story,--
Though scattered far ere the setting sun,
Our home is here, our hearts are one.

Repeat Chorus
When out from her portals some distant time,
We wander far to'n unknown clime,
Void of past pleasure, true college kin,
Which former days abounded in,
With constant hope in every breast,
We'll cherish still and hail her blest.

Repeat Chorus
As with many of the songs in Songs of the Scarlet and Gray, other than the composer, there is no information about Our Inspiration. The best it can be determined, that this song was written in the 1890s. It is possible this song was in use and probably sung by The Ohio State University Men's Glee Club.
Photo: 1955 Commencement, Courtesy of The Ohio State University Archives
Please e-mail any comments, problems or suggestions to njmetrowsky@gmail.com

Webmaster: Nick Metrowsky
The Ohio State University, BA, History, 1979
Life Member The Ohio State University Alumni Association
Life Member of The Ohio State University President's Club
Annual Member of The Ohio State University Varsity "O" Association

Last Updated: 23 September, 2021