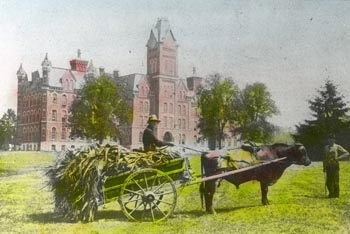 Jimmie Kelley
My name is Mister Kelley an' I kape the campus clean,
An iv'ry day I work away in sun or snow or rain,
In summer time I mow the grass an' dredge the scummy lake,
In winter, shovel snow and level roads with my old rake.

Chorus
O Mister Kelley, tra, la, la, la,
Poor Mister Kelley, tra, la, la, la, la, la, la, la, la, la, la.
My name is Mr. Kelley an' I'm very proud o' the name,
I am a man of reputation, an' I do deserve my fame;
An' yit tho' I'm an osifer, an' no so very small,
The haythen byes don't riverence me at all, at all, at all.

I keep the Prep from throwin' stones into the bloomin' lakes,
In iv'ry path across the grass, I plant a hundred stakes;
An' enny time the visitor passes by may see,
My pipe, my rake, my wheel barrow, my overalls an' me.

Repeat Chorus
The nasty byes, they sasses me an' tries to make me swaer,
An' when they tear my fences down, I git right up and r'ar;
An' yit I kape a workin' while it rains an' it snows,
Yer honor, have ye got a bit o' baccry in yer clothes?

Repeat Chorus

This song was very popular among The Ohio State University student body. It was not a fight song or an Alma Mater, but a ballad about a university policemen (grounds keeper). The name of this individual was Jimmie "Pat" Kelley. Mr. Kelley was very popular with the students of Ohio State in th early days of the University. So, in 1894, Joseph Russell Taylor honored Mr. Kelley in song. Matter of fact, a photograph of Mr. Kelley was included in Songs of Ohio State University.
Mr. Kelley, according to The Lantern, came to work at Ohio State on May 23, 1882. He spent his time, as the song indicates, keeping the campus clean and doing a meticulous job maintaining the lawns, shrubs and trees on the Ohio State campus. He also did show displeasure to students who "mussed" up his handiwork. As the song indicates, he always had a rake in his hand and time to talk to, and smoke cigars with, the students as he went about his work. Mr. Kelley, worked at Ohio State, until April 16, 1905 when he was suffered a stroke which paralyzed his right side. Mr. Kelley died on October 21, 1908 from complications of the the stroke. The University continued to pay Mr. Kelley from the onset of his illness until his death, for his many years of service at Ohio State. Unfortunately, The Lantern did not disclose his age.
The song was written to the melody of Solomon Levi; you can recognize the melody as that of the University of Utah Fight Song, Utah Man.
This song was originally published in The Lantern on 28 November, 1894.
Photo: 1896 Ground Keepers, Courtesy of The Ohio State University Archives
Please e-mail any comments, problems or suggestions to njmetrowsky@gmail.com

Webmaster: Nick Metrowsky
The Ohio State University, BA, History, 1979
Life Member The Ohio State University Alumni Association
Life Member of The Ohio State University President's Club
Annual Member of The Ohio State University Varsity "O" Association

Last Updated: 23 September, 2021