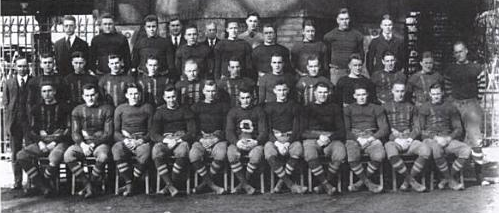 O. S. U. Jubilee Song
The autumn days have come again
The gladest in the year;
We gather on the bleachers boys,
To yell and root and cheer;
When our team comes out to play
We fellows feel no fear;
While we are rooting for O-HI-O!
Chorus
Hurrah! Hurrah!
We sing the Jubilee
Hurrah! Hurrah!
We've all come out to see
The gray and scarlet win for us
Signal victory
While we are rooting for O-HI-O.
Now our quarter has the ball
He dashes down the field
We boys are yelling touchdown State!
The pigskin grunts and squeals
And soon between the great white poles
In man and ball revealed
While we are rooting for O-HI-O.
Repeat Chorus
This song was in use for the 1909 football season and was published in the Ohio State - Kenyon football program. This is one of two songs written which use the melody of Marching Through Georgia; a rather popular Civil War melody of the time. This song was not published in future football programs, thus it probably faded from use after the 1909 season. Please see Rush On, as this is the other song written with the melody Marching Through Georgia.
Photo: 1919 Football Team, Courtesy of The Ohio State University Archives
Please e-mail any comments, problems or suggestions to njmetrowsky@gmail.com

Webmaster: Nick Metrowsky
The Ohio State University, BA, History, 1979
Life Member The Ohio State University Alumni Association
Life Member of The Ohio State University President's Club
Annual Member of The Ohio State University Varsity "O" Association

Last Updated: 23 September, 2021