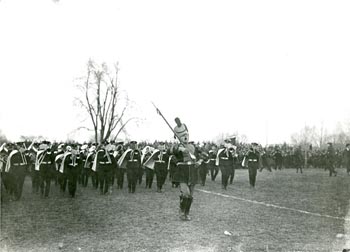 Men of Ohio
Oh men of Ohio most glorious name,
Cheer the team which goes forth today;
In the midst of the game wake the welking again,
We must conquer in valiant fray.
Let loyalty surge in a mighty wave,
For a team that is staunch and true,
They'll fight ev'ry inch while there is time to play:
Then speed them on their way.

Chorus
Rah! Rah! Rah! Rah! Ray for Ohio,
Shouting and singing, Wahoo's a ringing,
Rah! Rah! Rah! Rah! Hail Alma Mater,
Cheer ever Ohio.
Rah! Rah! Rah! Rah! Ray for Ohio,
Loyal forever, cease fighting never,
State battles royal, hearts beat loyal,
Ohio will win today.

Mid tumult and turmoil of toil and strife,
Worthy men bear Ohio's name;
Firm they fight for the right and in fairness delight,
Ever swelling Ohio's fame.
In the cheer, in the charge, keep the standard high,
Winning fairly with might and main,
Fortune smiling or frowning on Ohio's brave:
We'll cheer them once again.

Repeat Chorus
This rousing song was composed with the collaboration of Fred Cornell (Carmen Ohio), Curtis Sohl and R. A. Hauser, in 1910 (its first known publication was in the 1910 OSU - Kenyon football program). The song is was included as one of the fight songs submitted for publication in Songs of Ohio State University. Also, it is another example of Fred Cornell's work. It was another contest song, Across the Field, will win the hearts of Buckeye fans everywhere and would immediately be adopted as Ohio State's fight song.
Photo: 1921 Ohio State University Marching Band, Courtesy of The Ohio State University Archives
Please e-mail any comments, problems or suggestions to njmetrowsky@gmail.com

Webmaster: Nick Metrowsky
The Ohio State University, BA, History, 1979
Life Member The Ohio State University Alumni Association
Life Member of The Ohio State University President's Club
Annual Member of The Ohio State University Varsity "O" Association

Last Updated: 23 September, 2021