The Neutron Dance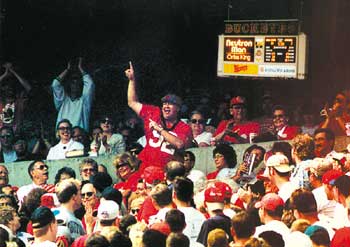 I don't want to take it anymore
I'll just stay here locked behind the door
Just no time to stop and get away
'Cause I work so hard to make it everyday
Whoo oooh
Whoo oooh
There's no money falling from the sky
'Cause a man took my heart and robbed me blind
Someone stole my brand new Chevrolet
And the rent is due, I got no place to stay
Whoo oooh
Whoo oooh
Chorus:
And it's hard to say
Just how some things never change
And it's hard to find
Any strength to draw the line
I'm just burning doin' the neutron dance
I'm just burning doin' the neutron dance
Industry don't pay a price that's fair
All the common people breathing filthy air
Roof caved in on all the simple dreams
And to get ahead your heart starts pumping schemes

Repeat Chorus
Whoo oooh
Whoo oooh
I'm on fire
I'm on fire
Repeat Chorus
I know there's a pot of gold for me
All I got to do is just believe
I'm so happy doin' the neutron dance
And I'm just burning doin' the neutron dance
I'm so happy doin' the neutron dance
I'm just burning doin' the neutron dance
As this web site's sole purpose is to provide history of songs of The Ohio State University, it is very appropriate to provide the history of one of the most colorful fans ever associated with Ohio State. To the melody of The Neutron Dance, the fan known as "The Neutron Man" captivated Ohio State fans with his dances for nearly 30 years (20 of those years would be to The Neutron Dance proper). Below are three articles about Orlas King a. k. a. "The Neutron Man". The first provides the history behind "The Neutron Man". Sadly, the second article is the obituary of Mr. King from 8 October, 2004. The last article was an editorial honoring Mr. King and his legacy. This web page is dedicated to the memory of Mr. Orlas King for the joy he brought to Ohio State fans over the years.
As for the song, The Neutron Dance gained its popularity with The Pointer Sisters in 1984. The song went to number 6 on the Billboard charts in that year. Also in 1984, Dr. Jon Woods arranged The Neutron Dance for The Ohio State University Marching Band and a new tradition was born. For the next twenty years "The Neutron Man" and the OSUMB will be linked whenever the OSUMB performed The Neutron Dance.
Neutron Man is King of dance
Decked out in scarlet and gray, this super fan fires up the crowd at games
Melissa Karcher
The Ohio State University Lantern
Issue date: 11/22/02 Section: Campus
For most fans, football season is a time to pull out their warmest Ohio State garb and dust off their buckeye necklaces. But for Orlas King, an OSU alumnus, it is a time to grab his scarlet-and-gray cabby hat and put on his dancing shoes.
King, otherwise known as the Neutron Man, attends every football game and is seated in the southeast corner of Ohio Stadium. Despite the crowd of scarlet and gray, King can always be found when the band begins playing "The Neutron Dance"; his musical cue.
On cue, fans usually look to King to see his newest dance steps, which also are featured on the Horseshoe's big screen. Dancing usually comes at a time when the stadium is on the quiet side, King said. The dancing stimulates the crowd, causing them to cheer and support the team, he said.
"I am as amused as everyone else is," said Debbi King, the Neutron Man's wife. "He enjoys it, the fans enjoy watching him and I enjoy watching the fans watch him."
Both King and his wife are avid Buckeye football fans who love to cheer.
"The only thing I don't do is dance," Debbi King said. "That's his thing. I wouldn't want to show him up."
King has always had his own dance moves and is a natural dancer, Debbi King said.
One of his main attractions is his dancing ability, she said. While the two were dating, dancing was a regular event. They have now been married 16 years.
King, 60, has always been a Buckeye fan. In his younger years, King's father took him to a game each year, which he said was the highlight of his childhood.
After school, King continued to attend OSU games as an alumnus. He would show his school spirit through his dance moves, which grew in popularity among the fans. In 1973, after King danced to the marching band's rendition of the "Neutron Dance" by the Pointer Sisters, the crowd began to chant "Neutron Man" and the name has stuck, he said.
The new Neutron Man, who had always worn scarlet and gray, later received a makeover and now wears the same outfit every game. His uniform, specially made by Beltea, consists of scarlet and gray camouflage pants, a replica OSU jersey reading "Neutron Man," a buckeye necklace, red tennis shoes, OSU socks and a scarlet and gray cabby hat.
Although his outfit and dance moves are anything but forgettable, King prefers to stay out of the spotlight when he is out of the Horseshoe, said Tim Pike, a senior in criminology and sociology and former OSU cheerleader.
"He was everywhere the cheerleaders were, and whenever he got attention, he would re-direct it to the cheerleaders and the band," Pike said. "Even a portion of the money made from the Beanie Baby of him is put toward the cheerleading scholarship. He is so giving and absolutely in love with Ohio State."
King is very appreciative of what students do for the university, especially the cheerleaders, said Judy Bunting, OSU cheerleading coach. He is the kind of person who is always there to chat about anything from the Buckeyes to life in general. His interest is in OSU and its students and he uses his personality to help them in any way, she said.
Earlier in the year, King held a party at Beekman Park for the cheerleaders and marching band members, Bunting said. It was a huge commitment and a large cost, but he did not expect anything in return. It was his way of thanking the cheerleaders and band members for their hard work, while also allowing them to relax, she said.
"I took them out to lunch," King said. "It was my way of showing appreciation for all that they do."
Along with understanding the hard work put in by athletes, King goes out of his way to build relationships with students. For some students whose parents are not around, he is like a father figure, said Pike, who calls him "Big Daddy." King helps students network in the business world, investing in their future, he said.
King supports all of OSU's athletic programs and the university's students in general, Debbi King said. There is always something going on that will benefit OSU or other charities, and he feels he has to be there, she said.
King owns two Ponderosas and End Zone, a sports bar in Newark, Ohio. The sports bar is not completely OSU-driven, but does hold the remaining part of the Buckeye memorabilia that does not fit in the house, he said.
Home or away, King always supports the Buckeyes and has no problem giving credit to a better team.
King himself goes out of the way to congratulate both teams. Athletics are not just about winning, but about preparing students for life, he said.
"We are so very lucky here at Ohio State in the last 10 years," King said. "We are not only the finest university in all the land.?W we have built new facilities and brought in coaches to support the new facilities. And once we got the coaches in the, now the players are coming, and all of the programs are winning programs. Hats off to Andy Geiger and staff to be able to accomplish that."
OSU fan Neutron Man dies at age 62
Buckeye Buzz staff
Orlas King, an Ohio State fan known as 'Neutron Man' died Thursday.
NEWARK -- The Neutron Man, Ohio State's best known football fan and owner of the End Zone in Newark, died Thursday in Florida.
Orlas King, 62, of New Albany, was best known for dancing gyrations in the stands during OSU home football games.
He died in his condominium in Buena Vista, Fla., Thursday morning while waiting for his golf partners to arrive, End Zone General Manager Ron Zeller said.
"Everybody's shocked by this," Zeller said. "All we know is he died peacefully after breakfast."
King opened his Newark restaurant and sports bar at 1650 W. Church St. in 2001. The restaurant showcases his collection of OSU memorabilia and photographs.
In a 2001 interview, King told The Advocate he learned his love for Ohio State from his father, a tool-and-die maker from Dayton.
"The guy who owned the shop gave my dad tickets to one game a year, and I loved it," he said. "I loved going to the games with my dad."
"I can't help it" he added. "I've supported the Bucks my whole life."
King didn't start dancing in the stands at the games until 1973. In 1984, Dr. Jon Woods, then marching band director at OSU, introduced a new song at the games called the "Neutron Dance." The students heard it and thought of the wild man dancing in the stands.
"They started chanting, 'Neutron Man, Neutron Man,'" King said, "and that's how it all started."
King's gyrations were a fixture at Ohio State home games. Dressed in a scarlet football jersey with the name "Neutron Man" across the back, King would take his cue from the opening notes of the marching band's version of "Neutron Dance."
Family friend Jeff Norris said King donated money to the marching band and held a yearly lunch for its more than 200 members. He also sold plush "Neutron Man" dolls, with the proceeds going to the marching band.
"A lot of people think he was just a guy who stood up and danced in the stands, but there's a little bit more to Orlas than that," said Norris, who was serving as family spokesman.
Funeral arrangements are pending.
The Associated Press and NBC 4 contributed to this report.
Originally published Friday, October 8, 2004
Neutron Man walked true path
Moni Wood
The Ohio State University Lantern
Issue date: 10/15/04 Section: Opinion
Although it was a beautiful autumn day, the skies over the 'Shoe were a bit grayer last Saturday as Buckeye fans mourned the loss of Orlas King, better known as the Neutron Man.
This week we have seen an overwhelming amount of response to the news of his passing - all paying tribute to the Buckeye's best-known football fan, who will always be remembered for his spirited dancing gyrations in the stands. Without the Neutron Man, a home game will never be quite the same, and he will be greatly missed. But perhaps there is more to the Neutron Man's legacy than his dancing - more than just being remembered as Ohio State own superfan. He also left us with a few lessons on what it truly means to be a Buckeye.
Orlas left no doubt about his passion for OSU football. Besides his infamous Neutron Dance, no one cheered as loud for a touchdown or jeered as furiously for a bad call. His heart soared and dipped with every play. However, when the game was over, he always had a smile on his face. He would go of his way to congratulate both teams and thank them for playing a good game. Orlas knew that it really isn't about if we win or we lose, even if it's against Michigan. It's all about the joy of the game and a well-spent Saturday. A game is simply a game.
Unfortunately, OSU has been plagued with students and fans who haven't learned this lesson. We have been shamed by a number of violent riots and vandalism across the campus area during football season. Somehow, they have taken to the idea that post-game celebrations must include setting fires to couches and cars, smashing windows and throwing beer bottles at cops. When asked why they participated in these riots, many of the students answered, "Why not? I didn't have anything better to do." It is in these statements where the second lesson lies, my friend.
Orlas not only loved the Buckeyes, he devoted his life to supporting them as well. An active supporter of OSU Marching Band and the OSU Football team, the Neutron Man consistently worked to raise funds for his passion. He even marketed his own "Neutron Man Bennie Babies," which are now starting to run on eBay for a hefty price. (Someone should really pick up on this idea and sell memorial Neutron Man merchandise with all proceeds going to TBDBITL and the Buckeyes.)
Orlas didn't ask for anything in return. He just wanted help support what he loved. Perhaps if misguided students would spend more time devoting themselves to something other than their own selfishness, they wouldn't have the time to destroy our property, campus and reputation.
The Neutron Man left us with more than just memories of him dancing in the stands with his jaunty scarlet and gray cabby cap. He showed us was being a Buckeye was really all about: finding what your true passion is and following it. It will lead you towards true happiness. And whether it's during an OSU game or your own game of life, you will find great moments of triumph, disappointing defeats and times when you feel you are just standing out on the field, simply baffled by the formation surrounding you. Don't let the frustration get the best of you. Just be happy you're here - and do your own Neutron Dance.
Please e-mail any comments, problems or suggestions to njmetrowsky@gmail.com

Webmaster: Nick Metrowsky
The Ohio State University, BA, History, 1979
Life Member The Ohio State University Alumni Association
Life Member of The Ohio State University President's Club
Annual Member of The Ohio State University Varsity "O" Association

Last Updated: 23 September, 2021