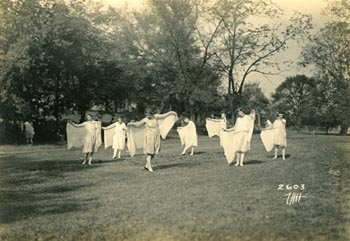 Ohio, Our Own
Hail to Ohio, her glory, her worth!
Carry her fame to the ends of the earth,
Singing her praises wherever we go.
Telling all nations the joy that we know,
Here in Ohio, Ohio our own.

Chorus
Years soon will part us when school days are gone,
Still golden memory holds the friends we have known,
Here in Ohio, Ohio our own!

Hail to Ohio, her honor, her truth!
Gladly we give her the best years of youth,
Proudly we follow the Scarlet and Gray,
Dear Alma Mater, forever we say,
Hail to Ohio, Ohio our own.

Repeat Chorus
Written by Helen Smith Fairbanks, Ohio, Our Own was composed for May Day Activities on The Ohio State University campus. According to Songs of Ohio State University, Ohio, Our Own is subtitled "May Day Feat Hymn of Ohio State University". While the lyrics make this song more like an Alma Mater, it was intended to glorify Ohio State during the May Day Festival. It is possible that Ohio, Our Own was composed as part of the 1916 Ohio State Alumni Association Song Contest or composed sometime during the school years of the composer (1905 - 1909).
May Day, was considered both a festival to celebrate the beginning of spring and the fruits of one's labor. At the time this song was written, the United States, observed Labor Day on May 1st, as it was in the rest of the industrialized world. The rise of Communism, which would embrace May Day as a way to promote their philosophy, would force the United States, and other industrialized nations, to move Labor Day to another day and to discourage May Day celebrations.
Photo: 1890 May Fete (May Day), Courtesy of The Ohio State University Archives
Please e-mail any comments, problems or suggestions to njmetrowsky@gmail.com

Webmaster: Nick Metrowsky
The Ohio State University, BA, History, 1979
Life Member The Ohio State University Alumni Association
Life Member of The Ohio State University President's Club
Annual Member of The Ohio State University Varsity "O" Association

Last Updated: 23 September, 2021