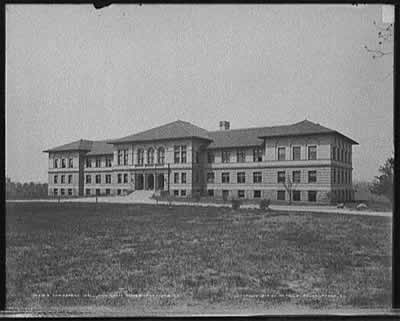 Ohio Mater
Wheree'er thy example leads, a clear, unfalt'ring light,
Oh Alma Mater, all the paths of life are bright,
Be fortune ill or fortune fair, whate'er share of fate,
Thy wisdom true will guide us thro', beloved Ohio State.

Thine ideals, and visions high, thy strong prophetic fire,
Oh Alma Mater, lofty purposes inspire,
And as we fight for truth and right, for land and liberty,
No glory claim but in thy name; Ohio State for thee.

When years dim the mem'ry of the happy college day,
Still, Alma Mater, may thy spirit point the way,--
To smooth the road, make light the load, the lonely heart befriend
And may we hold the faith of old, Ohio, till the end.

This song was an entry in The Ohio State Alumni Association Song Contest in 1916. It was published in Songs of Ohio State University. Unfortunately, there is no additional information about this song, other than the composer and its publication. Also, Carmen Ohio, by 1916, was solidly in place as the Alma Mater of Ohio State, thus relegating this song into historical obscurity.
Photo: Undated Townsend Hall, Courtesy of The Ohio Historical Society
Please e-mail any comments, problems or suggestions to njmetrowsky@gmail.com

Webmaster: Nick Metrowsky
The Ohio State University, BA, History, 1979
Life Member The Ohio State University Alumni Association
Life Member of The Ohio State University President's Club
Annual Member of The Ohio State University Varsity "O" Association

Last Updated: 23 September, 2021