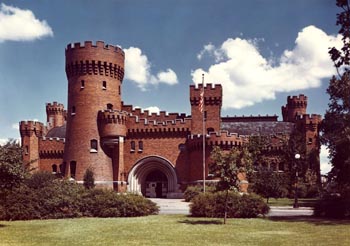 Ohio's Jewels
When Noah built his three-deck boat;
A skillful workman, he,
And set his crew of eight afloat,
Upon the briny sea,
Be sure he scattered chips around
As thick as chips may be;
For every chip a man is found,
And of those chips are we.

Chorus

Then gather round in laugh and song,
My comrades dear and true,
Nor fear the flood, it won't last long,
But yell for O. S. U.

For forty nights, for forty days,
He floated o'er the foam;
And, when at last he land surveys
"Twas not his childhood's home,
He missed Ohio's golden fields,
Her meadows green to view;
But more than words our language yields,
He missed the O. S. U.

Repeat Chorus

Then when he planted vineyards round,
Three hundred years or more,
And dug his cellars in the ground
To hold his fragrant store;
He surely meant to soak his chips
In antiseptic brine,
And wished them all wet their lips
In pure Ohio wine.

Repeat Chorus
Ohio groups her jewels rare
Beneath the state-house dome.
But other gems of luster fair
Throng through her spacious home,
And where're pluck and nerve are known,
Within the equators span,
'Tis likely that the both were shown
By some Ohio man.

Repeat Chorus
This song is one of the several drinking songs popular at Ohio State in the 1890s. Like many songs of the day, the song takes a familiar melody and provides a new set of lyrics. In this case, Ohio's Jewels uses the melody of O Christmas Tree, or Der Tannenbaum. Unfortunately, there is very little else known about this song.
This song was originally published in The Lantern on 12 December, 1894.
Photo: 1957 The Armory, Courtesy of The Ohio State University Archives
Please e-mail any comments, problems or suggestions to njmetrowsky@gmail.com

Webmaster: Nick Metrowsky
The Ohio State University, BA, History, 1979
Life Member The Ohio State University Alumni Association
Life Member of The Ohio State University President's Club
Annual Member of The Ohio State University Varsity "O" Association

Last Updated: 23 September, 2021