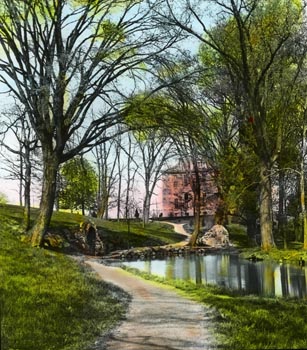 Ohio State
Ohio State, we spent with thee
Our days of youth and innocence;
For these thou gavest memory,
A true and beloved recompense.
We hear again these evening chimes,
The sweetly peal in reverie;
They waken thoughts of olden times,
That were the happiest with thee.

Chorus
Ohio State, Ohio State,
Thy sons and daughters older grow;
But time will only consecrate
These blissful dreams of Ohio.
Ohio State!

Ohio State, we shan't forget
Those quiet shades, those hidden bow'rs,
Where friendship with true friendship met,
And sweet communion filled the hours.
Once more we stroll past Mirror Lake,
The spring is bubbling o'er the brink;
We kneel again for old times' sake,
Then pause a moment more to think.

Repeat Chorus
This song was an entry in The Ohio State Alumni Association Song Contest in 1916. It was published in Songs of Ohio State University. Unfortunately, there is no additional information about this song, other than the composer and its publication.
This ballad does mention two of the best known landmarks on the Ohio State campus. The chimes of Orton Hall and Mirror Lake. The chimes ring each quarter hour, using the Westminster chimes, and also chime the hour. Also, the chimes have been retrofitted with a "piano style keyboard" so music can be played by an individual or "programmed" to play a selection. On weekdays, during the time when classes are in session, the chimes ring out music at noon and at 5:00 PM. As mentioned earlier, the chimes reside in Orton Hall, the oldest building on campus, which was completed in 1892. The classes of 1906 - 1914 contributed donations to caste the bells, and, in 1915, the bells were installed in Orton Hall. Recently, the chimes were refurbished, and additional bells were added, so additional melodies could be played. Orton Hall was originally built as the science building and its construction is unique. The stonework of the building is a work of Ohio geologic time. The oldest geologic stones start at the foundation and decrease in age to the top of the building. Also, the chime tower has gargoyles, represented by prehistoric animals, which are perched just below the openings of the tower. Today, Orton Hall houses the Geology Museum, Library and research related to the Geologic Sciences.
In regards to Mirror Lake, it was, and still remains the heart of the Ohio State campus. Mirror Lake Hollow is located just south of Orton Hall, just down a short hill. From the shores of Mirror Lake, one can see the tower that houses the chimes and their music can be clearly heard echoing across the hollow. Mirror Lake Hollow history is covered in Down By The Riverside. Suffice it to say, that the spring the fed Mirror Lake was the prime reason why Ohio State exists in its present location. This song evokes the feelings Ohio State students and alumni view this special place.
Photo: 1890 Mirror Lake, Courtesy of The Ohio State University Archives
Please e-mail any comments, problems or suggestions to njmetrowsky@gmail.com

Webmaster: Nick Metrowsky
The Ohio State University, BA, History, 1979
Life Member The Ohio State University Alumni Association
Life Member of The Ohio State University President's Club
Annual Member of The Ohio State University Varsity "O" Association

Last Updated: 23 September, 2021