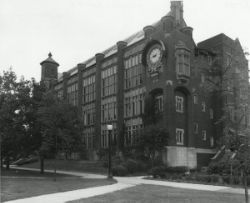 Peanuts
The man who has plenty of *,
And giveth his neighbor none,
He shan't have any of my *,
When his * are gone;
When his * are gone... ...
When his * are gone;
He shan't have any of my *,
When his * are gone.

*: Substitute * in each of the verses, as follows:
Verse 1: good peanuts (line 1), peanuts (all other *)
Verse 2: flunks and cons,
Verse 3: good, sweet, soft, juicy hard-tack,
Verse 4: good, rich blood-purifying, enervating, anti-tired-feeling sarsaparilla,
Verse 5: imperialistic, monarchical, despotic, tyrannical, unconstitutional political inclinations, or propensities, or views,
Verse 6: Yale mixture, Harvard black-jack, Princeton plug, Columbia twist, or O. S. U. fine-cut, or any other kind of unadulterated chewing tobacco,
Verse 7: Mrs. Winslow's Soothing Syrup as sung by the O. S. U. Men's Glee Club of 1897, 1898, 1899, 1900 and forever thereafter, on every occasion, where they can give their audiences a dose of Mrs. Winslow's Soothing Syrup,

Peanuts was written, by an unknown member of The Ohio State University Men's Glee Club, in the 1890s. By far, this is one of the most strangest songs in the history of Ohio State. It is unknown if this song was used as an Men's Glee Club standard or as a drinking song among the students, or both. One can see, as they progress through the song, it gets more complicated to sing, as you are trying to say more words, in a limited time period. That is, you are singing two or three syllables in verse one, but by verse seven you are squeezing in over 60 syllables! Imagine singing this song after several drinks! Most likely, as this song progressed to the later verses, the music would stop for a time for everyone to speak the words, and the music would continue.
Photo: 1925 Hamilton Hall, Courtesy of The Ohio State University Archives
Please e-mail any comments, problems or suggestions to njmetrowsky@gmail.com

Webmaster: Nick Metrowsky
The Ohio State University, BA, History, 1979
Life Member The Ohio State University Alumni Association
Life Member of The Ohio State University President's Club
Annual Member of The Ohio State University Varsity "O" Association

Last Updated: 23 September, 2021