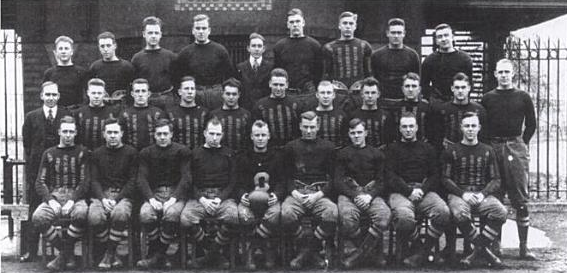 Rah, Rah, Rah, For Old Ohio
Raise a shout of hearty cheer
For the Scarlet and the Gray
And the boys that go to battle in the game.
They are out to do their best
And whoever wins the day
They'll be loyal to our Alma Mater's Name.

Chorus
Rah, Rah, Rah for Old Ohio,
For Ohio hip hurrah, (hip hurrah)
Oh, the team is filled with pep
And they're out to make a rep,
And they'll die before Ohio'll lose the day.

Oh, the backs are fast and strong,
They will take the ball along
Til they've traveled forty times (miles) across the field.
And the line is like a rock,
It will stand the hardest shock,
For Ohio's men were never known to yield.

Repeat Chorus
So we'll pledge our hearts and hand
By the team to always stand
We will cheer for every moment of the game.
For Ohio's sons are true
In whate'er they try to do
And they'll bring Ohio victory and fame.

Repeat Chorus
Rah, Rah, Rah, For Old Ohio was written by T. C. Conkins in 1915 (this song first known publication was in the 1915 Ohio State - Indiana football program). It was in use at Ohio State through 1921. In 1919, a new song called Buckeye Battle Cry was introduced to celebrate the Buckeyes, as it was the winning song for the Ohio Stadium Song Contest, and would eventually cause this song to fade into history.
In the early years of Ohio State, there were published many cheers to that were put to songs of the day. Many times, these songs would be used a few times and then abandoned. These cheers were usually set to a chorus of a popular song of the day. This was especially true in the period between 1890 through 1905. Eventually, Ohio State will settle on a few songs, before adopting Across The Field in 1916. Only Ohio (I Wanna Go Back To Ohio State) and Carmen Ohio have survived from this era.
In the case of Rah, Rah, Rah, For Old Ohio, it was a complete song written to a popular melody of the day, in this case Tramp, Tramp, Tramp, The Boys Are Marching or The Prisoner's Hope. One can speculate, that this was an entry to the 1916 Song Contest, but it never was published in the 1916 Songs of Ohio State University songbook.
Photo: 1916 Football Team, Courtesy of The Ohio State University Archives
Please e-mail any comments, problems or suggestions to njmetrowsky@gmail.com

Webmaster: Nick Metrowsky
The Ohio State University, BA, History, 1979
Life Member The Ohio State University Alumni Association
Life Member of The Ohio State University President's Club
Annual Member of The Ohio State University Varsity "O" Association

Last Updated: 23 September, 2021