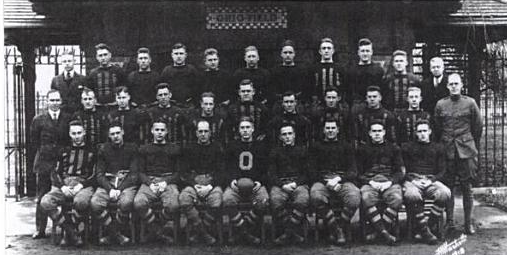 Rush on! Rush On!
Ohio State now meets the foe, we've gathered for the fray,
Tonight above the field must wave the Scarlet and the Gray;
The team we bear our colors on to victory today,
While we are shouting "O-hi-o!"
Chorus
Rush on! Rush on! We want a touchdown more!
Rush on! Rush on! Don't let the foeman score!
Just do the job brown up today as often times before,
While we are shouting "O-hi-o!"
We'll teach those lads from Illinois another trick or too;
They know that they've been in a scrap before the game is through;
We'll send them home to mother's wing a feeling mighty blue,
While we are shouting "O-hi-o!"
Repeat Chorus

Hugh C. Laughlin, class of 1890, wrote the fight song Rush On! Rush On!, it was sung to the melody of Marching Through Georgia. In today's society one would suspect that the melody would not be too popular south of the Mason-Dixon Line. But, one can easily see that Rush On! Rush On! could have had a place at Ohio State, just by reading the lyrics. Mr. Laughlin also wrote Stand Fast For Ohio and Ohio State Forever.
The song was written to support several Buckeye sports and mention their competitors in the song. For example, "Illinois" could be replaced by many of Ohio State foes, i. e.. "Wisconsin". The word "touchdown" could be replaced by "tally" for baseball or rugby games. Lastly, "foeman" could be replaced with "Badgers", "Hoosiers", etc. There are notations, on the music score, indicative of the possible usage noted above. This song was entered as part of the 1916 Ohio State University Alumni Association Song Competition. Finally, there is no indication that this song was in general use.
Photo: 1918 Football Team, Courtesy of The Ohio State University Archives
Please e-mail any comments, problems or suggestions to njmetrowsky@gmail.com

Webmaster: Nick Metrowsky
The Ohio State University, BA, History, 1979
Life Member The Ohio State University Alumni Association
Life Member of The Ohio State University President's Club
Annual Member of The Ohio State University Varsity "O" Association

Last Updated: 23 September, 2021