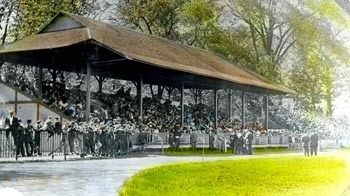 On The Sidelines
Once more we wait on the sidelines,
Before our stout fellows begin;
We're certain as fate on the sidelines,
To gather the victory in.

Chorus
Once more, once more,
O. S. U. standeth to win my child,
Once more, Once more,
O. S. U. standeth to win.

Last night I lay on my pillow,
Last night as I lay on my bed,
I dreamed of a big weeping willow,
Perceiving the Medics were dead.

Repeat Chorus
This song was never published in the song books, but appeared in the 29 November, 1906 football program "Yells and Cheers" page; thus dating this song to at least 1905. It uses the melody of My Bonnie Lies Over The Ocean. This song was used as a fight song with Varsity and Wahoo! Wahoo!, but it faded from use sometime before 1916. This song is an excellent example of using a contemporary melody and penning new lyrics. It is possible this song was written by The Ohio State University Men's Glee Club.
As there isn't any information about the song, it is possible that this song may have only been used when Ohio State played Ohio Medical College or the word "Medics" was replaced with the name of the opposing team. FYI: Ohio Medical College would merge with Starling Medical College to form Starling-Ohio Medical College, in 1907. In 1914, Starling-Ohio Medical College would become part of The Ohio State University.
Note: On 17 October, 1906, another variant of this song was published in The Ohio State University Lantern changing Medics in the last line to Michigan. This indicates that On The Sidelines was used multiple times and that the last line was changed depending on which opponent Ohio State was facing.
Photo: 1911 Ohio Field First Grand Stand, Courtesy of The Ohio State University Archives
Please e-mail any comments, problems or suggestions to njmetrowsky@gmail.com

Webmaster: Nick Metrowsky
The Ohio State University, BA, History, 1979
Life Member The Ohio State University Alumni Association
Life Member of The Ohio State University President's Club
Annual Member of The Ohio State University Varsity "O" Association

Last Updated: 23 September, 2021