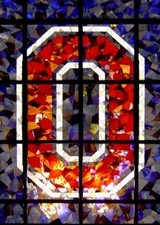 Ohio State Music Videos on YouTube
Instructions: To get to a larger video format, just double click on the video you wish to play and this will take you directly to the YouTube site. Just clicking the button in the lower left corner of a YouTube "link" above will play the video, without leaving this site; however, the YouTube video itself is streamed directly from YouTube.
YouTube Credits
sgsosu.net provides these YouTube video links, above and below, as an example of how music written about Ohio State has transformed itself from the piano and/or a cappella to marching band and finally to the Internet. These are a sampling of several hundred YouTube submissions available. Some of them are historic, for example, the 1956 Stanford Game Pregame (notice how the cadence for the ramp entrance and "Buckeye Battle Cry" is faster"), 1974 Rose Bowl Halftime, and the 1958 Rose Bowl Halftime (notice the station identification for KRCA (now KNBC - Burbank) right at the beginning of the video). There are among some of the more interesting historic Ohio State Marching Band vidoes.
The items presented on this page are hosted on www.youtube.com and not hosted by sgsosu.net. The availability of YouTube videos are subject to the policies set forth by YouTube. sgsosu.net accepts no responsibility, or provides any guarantee, on the future availability of media posted on web sites external to sgsosu.net.
Useful Link: video2mp3.net
https://www.youtube.com/watch?v=7SrEFDzdcDo - 1956 Pregame (Ohio State v Stanford) - Part 1
https://www.youtube.com/watch?v=iDaVIlaOizU - 1956 Pregame (Ohio State v Stanford) - Part 2
https://www.youtube.com/watch?v=BKdXlmc52F8 - 1974 Rose Bowl Halftime (Ohio State v USC)
https://www.youtube.com/watch?v=YCMZP_esRng - 2008 Pregame (Ohio State - Michigan)
https://www.youtube.com/watch?v=QTf2SChb9Ig - 2009 Seven Nation Army(Ohio State - USC)
https://www.youtube.com/watch?v=5m_6N6KqyZA - Buckeye Battle Cry Through the Years
https://www.youtube.com/watch?v=ucvPl4jjhTM - 1958 Rose Bowl Halftime (Ohio State v Oregon)
https://www.youtube.com/watch?v=ag1E-H9IzYc - 2009 Script Ohio (Ohio State v Navy)
https://www.youtube.com/watch?v=bUFlaapy_2U - The Ohio State University Men's Glee Club - Camous Echoes
https://www.youtube.com/watch?v=S6DuPCkjibo - First Hang on Sloopy - October 9, 1965

Please e-mail any comments, problems or suggestions to njmetrowsky@gmail.com

Webmaster: Nick Metrowsky
The Ohio State University, BA, History, 1979
Life Member The Ohio State University Alumni Association
Life Member of The Ohio State University President's Club
Annual Member of The Ohio State University Varsity "O" Association

Last Updated: 23 September, 2021