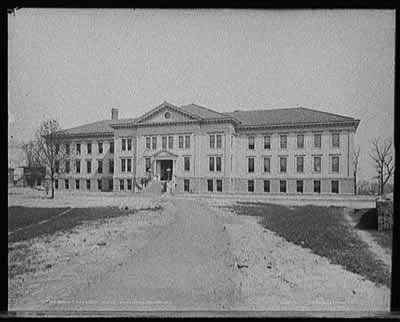 Stand Fast For Ohio
O come all ye who heartstrings thrill at Alma Mater's name.
An anthem peal with right good will to Alma Mater's fame:
Beneath the trees we'll sing her song, and loyal hearts aglow,
We'll shout the chorus loud and long,
Stand fast for Ohio! Stand fast for Ohio!

Too soon, too soon, will come the day, when we must bid farewell
To Alma Mater's kindly sway, To mirrored lake and dell:
Then with a tear her song we'll sing, and as we sadly go.
We still will make the chorus ring,
Stand fast for Ohio! Stand fast for Ohio!

Then, as with ever quick'ning flight, the years shall pass away,
Shine like a beacon in the night, the Scarlet and Gray!
Whate'er those mist hung years may bring, of blessings or of woe,
God grant we live the song we sing,
Stand fast for Ohio! Stand fast for Ohio!

Stand Fast For Ohio was a song written by Hugh C. Laughlin, class of 1890. He is also the composer of Rush On! Rush On! and Ohio State Forever. This song was written as part of the 1916 Ohio State University Alumni Association song contest, as there is no indication that this song was in general use.
Stand Fast Ohio won the Panhellenic Association Cup for the Best lyrics to the melody Dutch National Air in the 1916 Ohio State Alumni Association Song Contest.
Photo: Undated Brown Hall (now razed), Courtesy of The Ohio State Historical Society
Please e-mail any comments, problems or suggestions to njmetrowsky@gmail.com

Webmaster: Nick Metrowsky
The Ohio State University, BA, History, 1979
Life Member The Ohio State University Alumni Association
Life Member of The Ohio State University President's Club
Annual Member of The Ohio State University Varsity "O" Association

Last Updated: 23 September, 2021