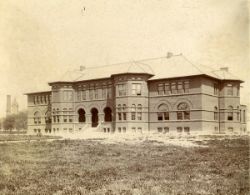 Lantern Subscriptions
Our poor business manager yells all the day
Subscription! subscription! subscription!
And he asks the subscribers to hurry and pay
Subscription! subscription! subscription!
For tis' the most weary labor to gather them in,
And it verily is a detestable sin.
That the students are so greatly lacking in tin.
Subscription! Subscription!! SUBSCRIPTION!!!

This song is one of the oldest student written songs about student life at The Ohio State University. This song was written in 1886 as a plea to The Lantern subscribers to pay their annual subscriptions. The Lantern was founded in January, 1881 as the student newspaper of The Ohio State University and was published monthly during the school year. It would quickly evolve into a newspaper of record of The Ohio State University. The Lantern, in its' early days, combined a literary magazine, with a scientific journal, an Alumni magazine and its' main focus, a student newspaper. Unlike today, where one can obtain The Lantern for free, in the early days, one had to pay a subscription fee of $1.25/year. It was not long after this song was written that The Lantern will begin evolving to a pure student newspaper. As the university grew, The Lantern would change their publication schedule by becoming a bi-weekly in the late 1880s, a weekly in the middle 1890s, then a semi-weekly the early 1900s, and finally a daily in the early 1910s. Eventually, The Lantern would become a publication of The Ohio State University School of Journalism, as a student laboratory newspaper. Lantern Subscriptions does appear in Songs of the Scarlet and Gray, thus it was probably in some form of use.
As for the song, it uses the melody of Tit Willow (or On a tree, by a river) from the Gilbert and Sullivan operetta, The Mikado, which was written in 1885. Lantern Subscriptions is an example of a song written to a melody of a contemporary song which was popular at the time.
Photo: 1893 Chemistry Building (now razed), Courtesy of The Ohio State University Archives
Please e-mail any comments, problems or suggestions to njmetrowsky@gmail.com

Webmaster: Nick Metrowsky
The Ohio State University, BA, History, 1979
Life Member The Ohio State University Alumni Association
Life Member of The Ohio State University President's Club
Annual Member of The Ohio State University Varsity "O" Association

Last Updated: 23 September, 2021