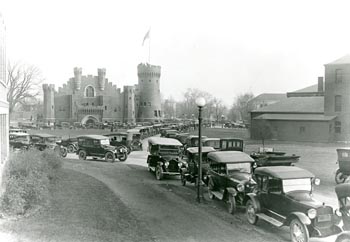 To Thee, Ohio State
Of thee, thy sons, Ohio State
Triumphant anthems sing,
To thee our hearts we dedicate,
To thee our praise we bring.
The love of thee, deep in each soul
Forever shall abide,
And where the darker waters roll,
Thy light shall be our guide.

Thou standest unperturbed, serene,
Amid the rushing ways,
Upon the brow no care is seen,
No sorrow on thy face,
When men shall falter with sick will,
And with unmeaning aim,
Ah, then shall rise, diviner still,
The temple of the fame.
See where above the wide green lawn,
Thy splendid colors play,
The glory in the clouds at dawn,
The Scarlet and the Gray.
They still shall stream, when time shall bring,
Our lives beyond thy fate,
Thy children, praising still shall sing,
Of thee, Ohio State.
To Thee, Ohio State was written by Harold Childs in 1912, and was published in The Ohio State University Monthly, in November, 1912. As with many songs of this era, it utilizes a popular melody of the day, in this case Drink to Me Only with Thine Eyes. It was entered in the 1916 Ohio State Alumni Association Song Contest, for the purpose of having a new melody written for the song. Homer Howard wrote the new melody, and the name of this song was changed to Ohio State. Ohio State is provided on the Ohio State Songs Lost to History page under the Alma Maters/Hymns section.
Photo: 1917 The Armory, Courtesy of The Ohio State University Archives
Please e-mail any comments, problems or suggestions to njmetrowsky@gmail.com

Webmaster: Nick Metrowsky
The Ohio State University, BA, History, 1979
Life Member The Ohio State University Alumni Association
Life Member of The Ohio State University President's Club
Annual Member of The Ohio State University Varsity "O" Association

Last Updated: 23 September, 2021