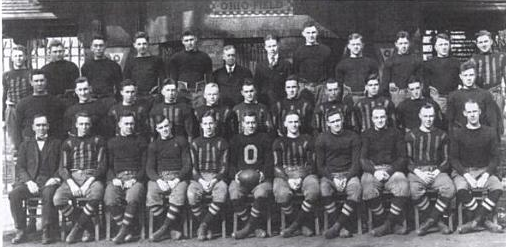 Victory Ohio
We're loyal to you, O-hi-o,
We're sons, tried and true of O-hi-o;
We're backing our team, for they've got the steam,
They'll fight 'til the battle's o'er, O-hi-o!
Hear that referee's whistle shrill;
Touchdown State, is the cry;
The hills ring back from far and near
That call to do or die.
Chorus
Wa-hoo! Wa-hoo! O-hi-o!
Wa-hoo! Wa-hoo! O-hi-o!
O-hi-o! O-hi-o! O-hi-o!
Fling out the flag of vic-to-ry
For we're going to win the day;
Fight hard boys and take this game,
It means so much to O-hi-o's name.
Fight hard boys and answer the call
Of your Alma Mater and so;
When the game is o'er, we'll know
They will score
Meaning vict'ry for O-hi o.
The first half is over, O-hi-o,
Now each man on our team, O-hi-o;
Must FIGHT 'till the ball's clear over the goal;
Push Michigan off the field, O-hi-o!
Let every one stand up and cheer,
Boys, you must take this game
Come on with a touchdown and for State
You'll win eternal fame.
Repeat Chorus
There is a significance about this song, as it was introduced on 16 October, 1915 during the Ohio State - Illinois football game. It was published in the football program for this contest. As this site is loaded with history, the date 16 October, 1915 was also the day that another football song will come to be at Ohio State; Across the Field will make its debut. Please see Across the Field for more information.
As for Victory Ohio, it was written to the melody of Illinois Loyalty, the primary fight song at the University of Illinois. In these days the big out-of-state rival for Ohio State was the University of Illinois, so the reason how and why this song was written will probably remain a mystery. In 1915, Illinois Loyalty was celebrating its 10th anniversary in use (it was written in 1904). There is a debate between the University of Illinois, University of Notre Dame and the University of Michigan of who can lay claim to the oldest college fight song in continuous use. Well, if you read the account for Ohio, it also goes back to this time and we can add to this debate. Even though I Waana Go Back to Ohio State is a much newer song, the melody of Ohio is still performed today. Ohio was also introduced in 1906.
Photo: 1917 Football Team, Courtesy of The Ohio State University Archives
Please e-mail any comments, problems or suggestions to njmetrowsky@gmail.com

Webmaster: Nick Metrowsky
The Ohio State University, BA, History, 1979
Life Member The Ohio State University Alumni Association
Life Member of The Ohio State University President's Club
Annual Member of The Ohio State University Varsity "O" Association

Last Updated: 23 September, 2021