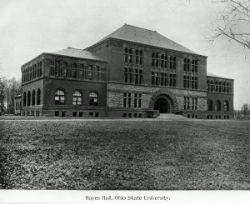 We're Loyal Ohio
We're loyal Ohio, we're loyal to you,
We're loyal Ohio, we're tried and true,
And thru the years that have passed and the years that will be,
We always will keep Ohio loyalty.
Scarlet and gray, keep in our vision bright.
And lead up forward thru the coming night.
We love Alma Mater where-ever we go,
We're faithful, we're loyal, Ohio.

When we've passed from college and are far beyond,
From out Alma Mater have strayed and have gone,
Then we will never forget what she meant to us all,
We never will find ourselves without her call.
Scarlet and gray, our colors ever bright,
Will lead us forward marching for the right.
For our Alma Mater, and ever will show,
We're faithful, we're loyal, Ohio.

This song was an entry in The Ohio State Alumni Association Song Contest in 1922. It was published in Songs of Ohio State University. Unfortunately, there is no additional information about this song, other than the composer and its publication. Also, Carmen Ohio, by 1922, was solidly in place as the Alma Mater of Ohio State, thus relegating this song into historical obscurity.
Photo: 1895 Hayes Hall, Courtesy of The Ohio State University Archives
Please e-mail any comments, problems or suggestions to njmetrowsky@gmail.com

Webmaster: Nick Metrowsky
The Ohio State University, BA, History, 1979
Life Member The Ohio State University Alumni Association
Life Member of The Ohio State University President's Club
Annual Member of The Ohio State University Varsity "O" Association

Last Updated: 23 September, 2021