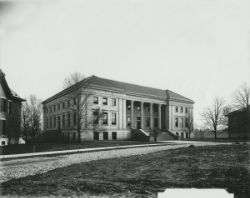 Who Are We?
Do you want to know who we are?
And why we' re here tonight?
We come from the O. S. U.,
We're to her colors true,
We rally round her name,
We carry high her fame,
We get there just the same. See?

Who Are We? was sung my The Ohio State University Men's Glee Club, when they began their performances, in the early days of Ohio State. This song starts off O. S. U. Medley, thus giving evidence that Who Are We? was in use in 1895 and was performed at the start of a performance. It was published in Songs of the Scarlet and Gray, but not in Songs of Ohio State University, so, sometime after 1904, it slowly faded from use and into history.
This song was originally published in The Lantern on 13 February, 1895.
Photo: 1903 Page Hall, Courtesy of The Ohio State University Archives
Please e-mail any comments, problems or suggestions to njmetrowsky@gmail.com

Webmaster: Nick Metrowsky
The Ohio State University, BA, History, 1979
Life Member The Ohio State University Alumni Association
Life Member of The Ohio State University President's Club
Annual Member of The Ohio State University Varsity "O" Association

Last Updated: 23 September, 2021